Our Story
Inspirational Quotes…
"Creating hope one smile at a time."
Connect With Us
Follow Us
Keep up to date with everything going on!
Follow Us
Thank you for visiting our website.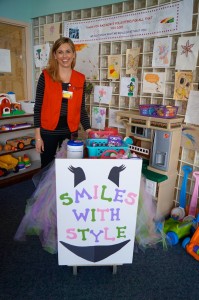 Smiles with Style grew out of a volunteer experience. The first time I performed a makeover for a little girl, I was blown away by her reaction. The ability to so profoundly help someone feel better and create a sense of hope is a tremendous feeling. I've witnessed how illness and life in the hospital can quickly squash a child's spirit. From that point forward, I was inspired to try and help as many children as possible.
I thought about how easy it was to make the kids smile and forget about the hospital. That's the beauty of children. When you tell them they look pretty or handsome, they don't question it. They believe it! The opportunity to nourish and grow their amazing spirits, their sense of bravery and their hope for the future kept pulling at my heartstrings.
Sometimes it may even be the parents who need a pick-me-up. I've met mothers who haven't left their child's bedside for days because their child was unexpectedly rushed to the hospital. Mom so desperately wants to take a shower. To see her face light up with gratitude as I hand her a hairbrush and shampoo is a reminder of how important the little things can be.
I also believe a positive mental attitude directly impacts one's ability to heal physically. It's remarkable how easy it is to help someone. The skill and effort needed to create the makeovers is so small in relation to the positive outcome.
From that simple idea, Smiles with Style was born…..a non-profit created with the purpose of mobilizing volunteers and recruiting funds in order to spread smiles to as many kids as possible. Our goal is to expand across the country generating smiles on the faces, and in the hearts, of any child impacted by illness. Once we're helping as many children as possible, we can expand to adults. Our goals may be lofty, but smiles are contagious and there's no age limit!
I love life, and I'm thankful for mine. These experiences continue to remind me what's important in life and Smiles with Style is our opportunity to share with others. I hope you will be moved to join us in helping improve the lives of many.